St. Martin of Tours Parish - Celebrating 182 Years
Welcome to our parish website. Although the website is new, the Catholic Community has been here since 1840. You are most welcome to join us at Mass each weekend to praise and give thanks to God, and to browse our website and Event Calendar for other parish activities.
Mass Times
WEEKEND MASSES
Saturday - 5:00 pm
Sunday - 8:00 am and 10:30 am

WEEKDAY MASSES
Monday - 5:00 pm (exc. holidays)
Wednesday & Fridays - 8:30 am

CONFESSIONS
Saturday 4:00-4:45 pm or by appointment

Holy Days - 8:30 am & 7:00 pm
Federal Holidays - 9:00 am
Office Hours
For Essential Business
(Masks are optional)

Monday-Thursday 9am-4:30pm
Friday 9am-2:30pm
Sunday 9am-Noon
Closed Saturday/Federal Holidays

ADORATION CHAPEL HOURS
Monday 9a-5:30p
Tuesday & Thursday 9a-4:30p
Wednesday & Friday 7:30a-4:30p
Saturday 1p-6p
St. Martin Parish Picnic
Hey - St. Martin Folks - SUNDAY, JULY 17
It's a Parish Picnic beginning at 10:30 AM with an Outdoor Mass
Buffet Table is open Noon - 2:00 PM
Bring fishing rods, field games, board games, playing cards - any time
Select and Purchase Food Below
Surnames A - M bring a Side Dish
Surnames N - Z bring a Dessert
2022 July Summer Camp
SUMMER CAMP: FISHERS OF MEN with Jesus and Friends
WHEN: Monday, July 18 - Friday, July 22
TIME: 6:30 PM - 8:30 PM
AGES: Kids in Kindergarten through 5th grade
WHERE: St. Martin of Tours Parish Hall
COST: $15.00 per child
2022-2023 PSR Registration
We are pleased to provide another Hybrid PSR Program for the 2022-2023 Season. Children for Levels 1 through 8 can register at the link below. Registration is from June 5 - August 21, 2022.
CLICK HERE for 2022-23 PSR REGISTRATION

CLICK HERE for the 2022-2023 PSR CALENDAR
Current Confirmation Candidates:
August 7, 2022 Confirmation Retreat 10:30 Mass - 3:30pm
September 10, 2022 11:00am Confirmation Mass
Our next Confirmation is in the Fall, 2023 for High School Students. Confirmation Candidates for 2023 must have completed PSR LEVEL 8 in 2022-23 (or a prior year). Registration for 2023 High School Candidates will open in January and the Preparation Program will begin in May, 2023.
St. Martin Rosary Campaign
"The Family that Prays Together,
Stays Together." Fr. Patrick Peyton, CSC
Thank you for asking the intercession of the Blessed Mother for our families, parish, country, and Ukraine.
Many blessings occurred during this period from Lent to our parish anniversary in June. If you wish, continue to offer a rosary for the welfare of others.
Our Blessed Mother is a powerful intercessor to her Son, Jesus Christ. We thank Almighty God for hearing our prayers and keeping us united.
Catholic Moms Group
A Mom's Group has been formed and will meet soon. We'd love to welcome any other Moms from the parish to join us. Contact Sarah Sidor in the parish office 330-483-3808.
St Martin FOOD PANTRY
St. Martin's life was changed by an act of charity to a poor man. Following the Gospel Call of Jesus as St. Martin did. Our volunteer parishioners continue the work of providing food supplies through our Food Pantry to those in need. No appointment is necessary.
The St. Martin of Tours FOOD PANTRY (1824 Station Rd.) is open on the following Thursdays between Noon - 2:00pm.


July 14 & July 28
Aug. 11 & Aug. 25
Sept. 8 & Sept. 22
Oct. 13 & Oct. 27
Nov. 10
Dec. 8 & Dec. 22?
If you can help us restock the shelves of our parish pantry, you would be a blessing to many who call on us for food. For your convenience a FOOD PANTRY SHOPPING LIST is available in the parish office. Next time you are out grocery shopping please pick up something from our shopping list. Just drop off the pantry items in the parish office during the week.
May God bless you for what you do for them, you do to HIM!
WeShare Online Giving
CLICK the Icon to make a RECURRING Donation, a ONE-TIME Donation, or to submit a FEE
Thank You for supporting the ministries of St. Martin Parish.
Catholic Charities Appeal 2022
Thank you for your generous response to the 2022 Catholic Charities Appeal. Your generosity assists the people who call on Catholic Charities in their need. Our parish pledge goal was $53,856. Two hundred twenty-two parish households responded to surpass the goal by over $2,000. God Bless You for your generous support and for honoring your pledge to Catholic Charities.
Week's Scripture Readings
Weekly reading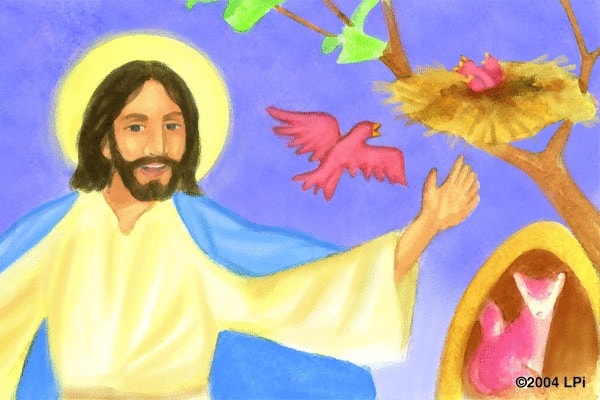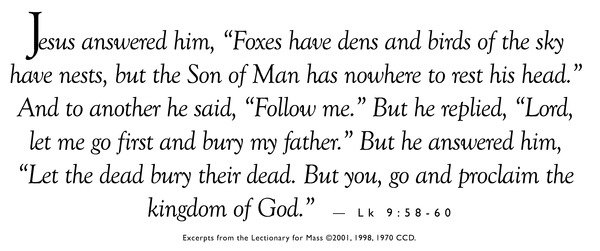 Weekly reading
Readings for the week of June 26, 2022
© Liturgical Publications Inc
The Catholic Faith. On Demand.
Know what Christ has revealed and the Catholic Church has faithfully taught.
Formed.org

Offers hundreds of movies, video programs, audios and ebooks. These opportunities are FREE and available 24/7 online or on your mobile app. They have helped people (Catholics and non-Catholics) to know Christ and His Church better. Register HERE: https://stmartinvc.formed.org Just enter our parish name and your email. It's easy! God bless.
Adult Faith Formation Sessions
Next series will begin on Tuesday, May 3rd at 6:30pm with EPIC: A Journey Through Church History Consisting of 20 sessions from the Resurrection to Vatican Council II. Sessions are 90 minutes with DVD presentation and discussion. All are welcome.
Another Series begins May 17 on Tuesdays at 12:30pm. It is a 12-week faith sharing DVD presentationy by Matthew Kelly entitled, "Decision Point". It is an overview of our Christian Journey in the Catholic Churrch. There is no required fee or registration. All are welcome.
Support and Social Groups
Grief Share Support
Mondays - 2:00pm - Parish Meeting Rooms
Grief Share is an opportunity for mutual support for anyone experiencing a significant change or loss in their life. It includes a series of DVD presentation; each of which stands on its own. Led by staff member Colene Conley. Group concludes with a trip to the Shrine of Our Lady of Sorrows on September 15. NEXT GROUP begins OCTOBER 4, 2021
Recovery in the Valley
Fridays - 7:00pm - Parish School
A Twelve-Step Program. Parking across from the school.
Men's Prayer Fellowship
1st and 3rd Saturday - 8:00-9:00am - Parish Meeting Rooms
An opportunity for spiritual input, reflection on the readings, and intercessory prayer. All are welcome. See Mike Lanzer for more information.
Men's Prayer Hour
Last Monday of each Month - 7:00-8:00pm - Adoration Chapel
Men of the parish gather to pray the rosary, intercessory prayer for those in need, and adoration. We pray for the intentions of people and families on our parish prayer list. See Frank Sapara for more informatin.
Women's Fellowship
1st and 3rd Saturday - 8:00-9:00am - Parish Front Hall
Like the Men's Group above, this is a gathering of women from the parish or elsewhere. All are welcome to join together for spiritual input, reflection and prayer. See Judy Rundle for more information.
Wholly Stability
Mondays - 4:15-5:15pm - Parish Meeting Rooms
An opportunity for low-impact stretching with chairs for increased body strength and stability. Led by a certified instructor. Fee is $5.00 per session.
Knitting Circle - Resumes March 1, 2022
Tuesdays - 2:30-4:30pm - Parish Meeting Rooms
Knitting and Crochetting for the fun of it and as volunteers making items for charitable, non-profit organizations. Call the parish office for info.
Stay Informed with Flocknote Texts
flocknote is a texting service to keep our parishioners and friends Up-to-Date. We can send a text to your cell phone to remind you of things that are upcoming, a change or cancellation of an event, an urgent message, or a notice that didn't make it in our weekly bulletin or this website. The only fees to join flocknote are the fees your cell phone provider/plan may charge for text messages.
CLICK HERE TO GET FLOCKNOTE
flocknote has been an effective way to keep you informed. Be sure to have messages sent to your general folder, or check junk and spam folders so you are not missing out on the latest news.
Synod 2021-2023
In October 2021 Pope Francis called for a world-wide Synod. The process of consultation will continue to May 2023. The Diocese of Cleveland is participating. For more information on the Synod and to submit an Individual Participation, click the link below to our Diocesan website.
Mass Attendance and Broadcasts
People of St. Martin and Visitors,
Covid-19 and it variants have not disappeared completely. Catholics who are ill, caring for an ill family member, or simply concerned about their safety in larege indoor gatherings are NOT obliged to attend Mass. You will find a Mass broadcast below. Please be attentive to the needs of others, and if you are experiencing known symptoms of Covid-19, please get tested. Thank you.
Livestream: at Diocese of Cleveland Mass from St. John Cathedral at 8:00 AM Sundays and Noon M-F.
Television: with Cox Communications cable on Channel 45 at 11:30 AM Sundays; without cable on WUAB Channel 43 at 10:00 AM Sundays.
Radio: at AM 1260 The Rock at 4 p.m. Saturdays and 10:30 a.m. Sundays.
Masses When Traveling
Traveling out of town or looking for information on neighboring parishes, check out catholicmasstime.org or Click HERE for schedules by States and Cities.